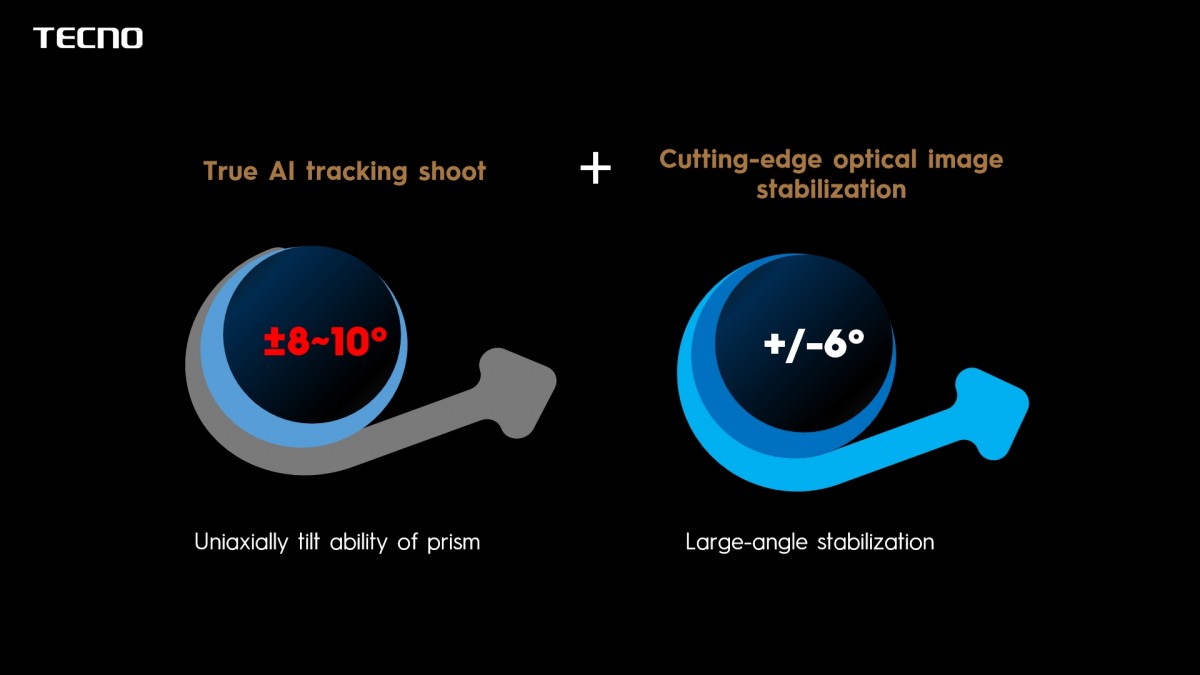 With the highest tilt angle capability, TECNO's innovative Eagle Eye lens technology provides true AI tracking images through dual prism rotation.
The Eagle Eye lens offers advanced video stabilization and works in conjunction with the optical stabilizer, allowing users to capture flawless images even when shooting moving subjects. Finally, it gives users the freedom to achieve sharp images in extreme conditions, such as F1 racing arenas.
TECNO, an innovative global technology brand operating in more than 70 markets, recently introduced the industry's first eagle lens technology.
The innovation was showcased in a webinar focused on the evolution of various technological advances that are currently flooding the world of smartphones.
Scheduled to launch with high-end smartphones in 2023, TECNO's Eagle Eye lens will be the first biprism periscope camera with the highest tilt capability yet.
Providing precise AI tracking and shooting, the lens's internal dual rotating saws allow for a maximum clamping angle of up to 6 degrees in the positive and negative axes.
The two one-way prisms can be tilted +/- 8° or +/- 10°, giving a one-way tilt range of +/- 16° in the short side direction and +/- 20° in the image direction of the long side. , allowing them to intelligently track moving objects in the image.
Therefore, the center of the magnified view area will always be occupied by moving objects.
The revolutionary Advanced Eagle lens features technology that redefines. In particular, the Track & Capture feature found on most smartphones, Android and iOS, uses digital cropping technology to focus on the subject in the frame.
By comparison, TECNO's Eagle Eye lens technology is the first to deliver an accurate physical tracking and imaging experience, providing users with flawless digital images or crops.
The new imaging technology introduced by the Eagle Eye lens enhances users' enjoyment of capturing exciting videos with moving subjects, providing a superior video stabilization experience.
"The Eagle Eye lens can solve the age-old problem of limited telephoto vision when shooting sports videos like F1 races. Instead, modern equipment can accurately track, detect and capture race cars."
"Subtler flicker," said Jimmy Hsu, Deputy Director of TECNO Image's R&D Center, "Gives telephoto users the best possible experience.
TECNO aims to continuously develop modern imaging capabilities and make breakthroughs in portraiture, zoom, image stabilization, and other dimensions of photography.
The company achieves this by adhering to its globalization strategy and important trends in the development of mobile imaging technology around the world.
In the near future, fundamentally new technologies are expected to be discovered. Stay with us!
Google 1
Google 2
Google 3
Google 4
Google 5
Google 6
Google 7
Google 8
Google 9
Google 10
Google 11
Google 12
Google 13
Google 14
Google 15
Google 16
Google 17
Google 18
Google 19
Google 20
X3 | Spheres: X3 Super Zoom | The start of the event